I'm flattered that LinkedIn counts me as one of their most-visited profiles. 
I began 2012 with a concerted effort to blog more. I spoke at a number of industry events. I even found myself a new job, one that not ironically, involves strategizing how my company can best use LinkedIn influence. So I can make a decent guess at why I was so "popular" last year.
But what does "LinkedIn influence" mean?
For those who have also been recognized by LinkedIn, please appreciate the honor, but also take note of what you might have done to get in the spotlight. There is certainly a context to be found amidst the social media industry's penchant for ranking its "influencers." Perhaps you do more of that, or do it with renewed energy.
Happy networking!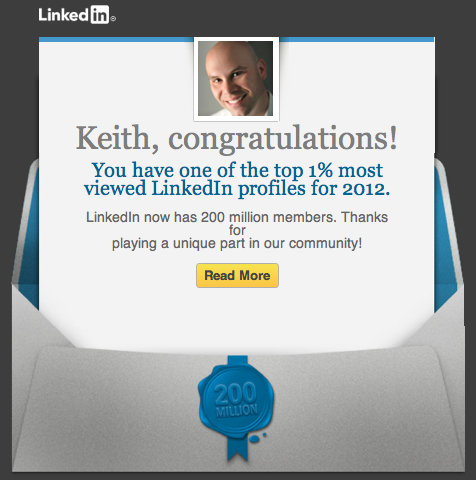 UPDATE Web Feb 20:
Kred is getting in on this game, too. And that's all it is… a game. I never look at Kred, nor Klout, and while honored, I don't particularly care. I'm waiting to see when/what/if/how/why these rankings matter.