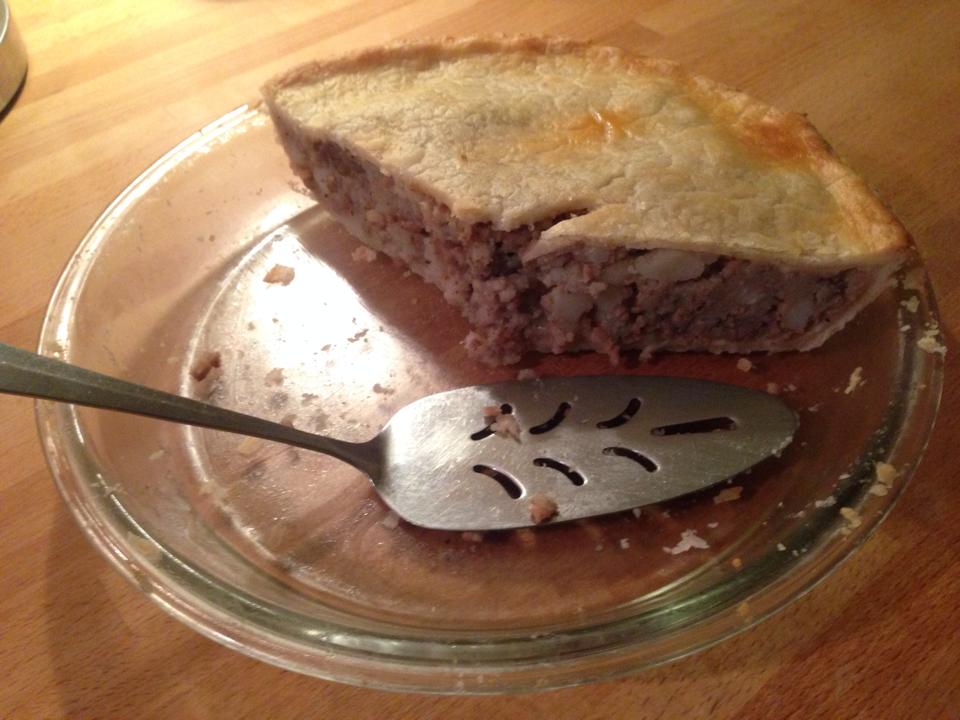 Thanksgiving is coming. That means it's tourtière time!
This is my Memeré Alice's recipe, and the way I remember her making meat pies during my childhood.
1 lb. Ground Pork
1/4 Jones Pork Sausage roll
3 Russet potatoes
1 med. yellow onion, diced small
3 cloves garlic, minced
1 Tbsp. Worcestershire sauce
3 Tbsp. unsalted butter
Salt & pepper to taste
Pie crusts
If using store-bought pie crusts, remove tubes from box to bring to room temperature.
If making your own, you rock. You're a pie god if you make a hot water crust instead.
Boil potatoes to an al dente consistency. Drain and mash. Season with salt & pepper. Set aside.
Preheat oven to 375.
Saute onion and butter until slightly browned. Cube the sausage roll and add to onions with ground pork and garlic. Cook thoroughly. Drain and reserve any juices/fat.
Add potatoes to pork mixture until "just moist." If too dry, add reserved juices (broth or water is ok, too).
Add salt & pepper to taste.
Place mixture in pastry-lined 9-in. pie plate (glass is best) and add top crust. Bake at 375 for 30 minutes.
THE WAY KEITH DOES IT
well, not exactly 😉
Here are some "extras" I've tried over the years:
Egg wash over top crust
Ground beef
Ground veal
The entire Jones roll

The sage flavor is nice, too

Cinnamon
Nutmeg
Cardamom
Maple Syrup
Fresh Sage
Pumpkin puree
Sweet potatoes
Mountain Rose potatoes