The Challenge
Rocket Software is a leading global developer of software products that help corporations, government agencies, and other organizations reach their technology and business goals. The company was undergoing a shift in its marketing and sales strategies when we sought to re-launch a corporate website and streamline 14 unique product families (and 17 microsites) into a single interface. By shifting the focus to products and streamlining the experience, we hoped to increase leads and improve cross-selling opportunities.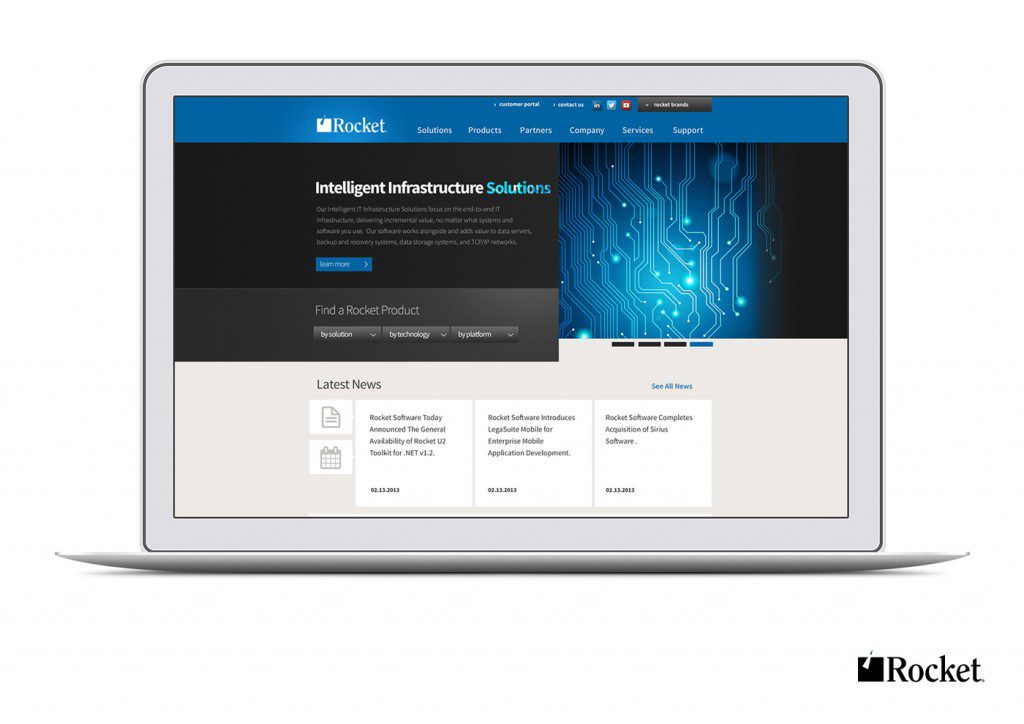 The Solution
I led a cross-functional team to devise a digital strategy and user experience that complemented Rocket's sales team's efforts to unify products and business units under the overall Rocket brand. This included using a new web site and taxonomy system for products and related content throughout the site, which ultimately allowed users to explore Rocket's offerings on their own terms through an integrated product finder.
The Results
Rocket's new site and strategic user patterns helped drive a 4x return on online lead-generation spend, resulting in $3 million in revenue and $10 million in pipeline opportunities for 2013. In addition, the new site features significantly enhanced visitor engagement rates across the site with a 50% boost in average time spent on site and a 30% increase in page views per visit, proving that site architecture is essential to user experience and performance. Through strategically placed call-to-actions, readily accessible product information, and free trials on the site, Rocket earned a conversion rate 192% greater than the industry average.
Awards