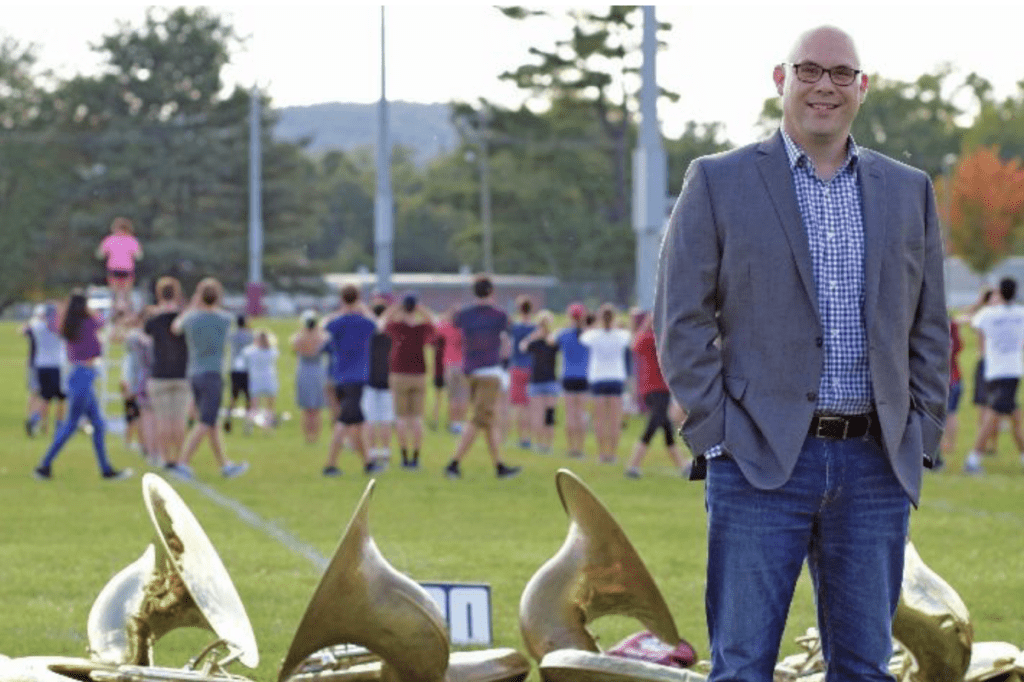 By Samm Smith '08
Big things are happening for the UMass Minuteman Marching Band and its alumni, according to Keith Paul '98, a veteran saxophone player and leader of the UMMB Alumni Network.
"Now is a great time to get involved," he says. "With nearly 5,000 alumni, we are seeing a reinvigorated Network full of people holding the same "power and class" we had during our time in the Band."
Some of the biggest recent UMMB news has been surrounding its first-ever appearance in the Rose Parade, taking place in Pasadena, California on New Year's Day 2018. Such an honor is unprecedented for the Band, says Paul, and alumni are excited to witness the event.
"This is huge," he notes. "The Band has performed at Bands of America Grand Nationals, the Macy's Thanksgiving Day Parade, and other large-scale events, but this is BIG. Rose Parade invitations are generally only extended to bands that have reached a certain level of performance."
Paul and other alumni plan to make the trek across the country to experience the Power and Class of New England at the parade. In addition to the parade itself, Paul says there are a number of other activities lined up for Band alumni and enthusiasts.
"Between alumni, band parents and other fans, we have nearly 300 people making the trip to California. We expect twice that for the number of people who go to the parade itself," he estimates. "In addition to the parade, the band will also have a variety of performances in California: at Disneyland, at the Tournament of Roses BandFest, and even rehearsing at Alhambra High School where band director Mark Trulson '92 is a UMMB alumnus."
What makes the UMass Band worthy of such an event, muses Paul, is something that he believes is unique to UMMB: their spirited humor and inclusivity.
"The Band is primarily known for its entertaining style, and that is where a lot of their notoriety comes from," he explains. "They grab the audience and really put on a show. That allows a lot of members to approach the activity in the best way they can."
Admittedly "not the best sax player" himself, Paul says one of his biggest takeaways from his experience with the Band was how everyone was given a chance to explore different avenues. The focus was never about being the best at any specific skill, although band members do set high expectations for themselves and for each other.
"If you cannot play a particular instrument, you can learn, or find a different role that suits you better," he notes. "The Band has always operated on the idea that the whole is greater than the sum of its parts. Band members rely on each other to learn the show, to learn about each other, and to support each other. This is a great thing for freshmen in particular – they find an instant community in the Band."
That community extends beyond a member's time as a student at UMass, says Paul, who has maintained a number of friendships and connections in the 20+ years since his days on the field.
"We develop close ties; some of them come and go, and some of them are constant," he remarks. "I was the best man for a close friend I met in the Band. There are many band couples, and we're now seeing many second-generation band members. We have the kind of bond where you pick up right where you left off because of our shared experiences."
As the leader of the Band Alumni Network, Paul asserts that while some alumni may have lost touch with the Band, now is the time for those young and old to reconnect and get involved.
"The Band Alumni Network goes as far back as the 1960s, but after the death of George Parks, it was difficult for some alumni to find their footing within the program," Paul says. "We looked to each other to be the glue and many needed emotional support during that transition. Moving forward, we decided we need to start with the basics to get folks involved again, paying particular attention to our most recent alumni."
Over the past year, Paul has done just that – from holding the inaugural Big Band Bash and reception at the newly-opened Old Chapel, to planning a series of activities at this year's Homecoming, Paul wants to reignite the love and passion each alum has for the Band and encourage them to participate.
"After the Homecoming post-game show, we're inviting all alumni, their partners, and their kids onto the field to sing My Way" he says. "That's become a huge tradition. We're also inviting alumni to perform in the Homecoming Parade and during the halftime show, as well as hosting an alumni reception."
Paul say he's eager to help more Band alumni reconnect and believes the Network is on the precipice of great things.
"We're just getting started and there's a lot of potential," he remarks. "We're building more of an online presence for alumni on LinkedIn and our website, as well as sharing news about alumni taking leadership roles in a variety of industries. We're also reinstating a scholarship fund for current band students for the first time in probably 20 years, as well as helping the Band raise funds for new uniforms. There's much to look forward to and lots still to come."