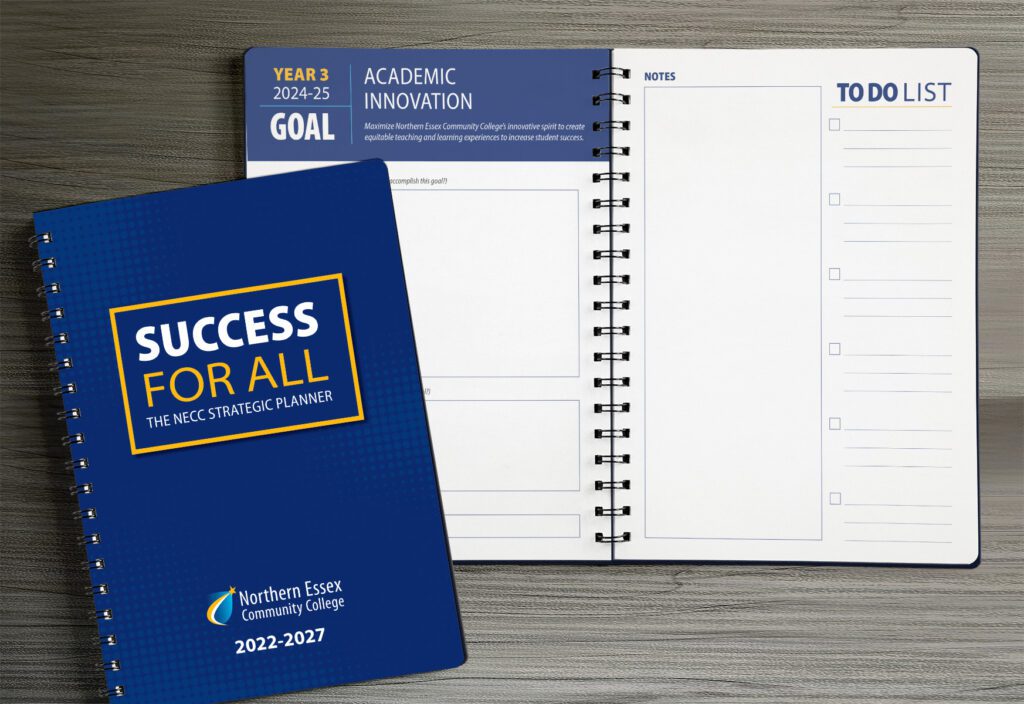 Okay, my higher education marketing friends, here's a very brief — maybe braggy — glimpse into how marketing can play a powerful role in your institutional goals and strategies.
Here at Northern Essex Community College we just rolled-out our next-generation Strategic Plan, laying out the college's goals for the coming five years.
I'm not going to detail those goals with you, but you're welcome to explore them and our methods. I will share that equity is not a goal unto itself. It's woven into the entire plan.
The point of this post is to share how NECC's marketing communications team played a strategic role in how this Plan is being implemented.
Outsized Creativity
When brainstorming with the Institutional Advancement and Institutional Effectiveness teams on what to do, my first question was "How will the strategic plan goals be mapped to the individual contributor level?"
I was pleasantly surprised by the answer: "We're building an Excel-based rubric for employees to use to measure their activities against plan goals."
The vision was simple. Help employees activate the plan in their day-to-day work. Find a way for our coworkers to carry through subsequent years of the plan and see how our work is making a direct impact. While the Excel sheet is an important management tool, for both the individual contributor, and for managers to roll-up team activities within each goal, it can be an unwieldy document in meetings and workshops.
We decided to create a companion workbook.
And we decided AGAINST producing a glossy paper version of the plan, instead focusing efforts on the website where, in real-time, we will include Tableau dashboards tracking our progress.
At 104 pages, this workbook is substantial. It includes summaries of the five goals, along with prescribed strategies and metrics frameworks. We also designed worksheets to help our coworkers brainstorm and take notes on how we each are contributing. With prompts to inspire creativity and spaces for notes and to-do lists, we hope the workbook serves as a "thinking space" before we capture our accomplishments in the formal rubric document.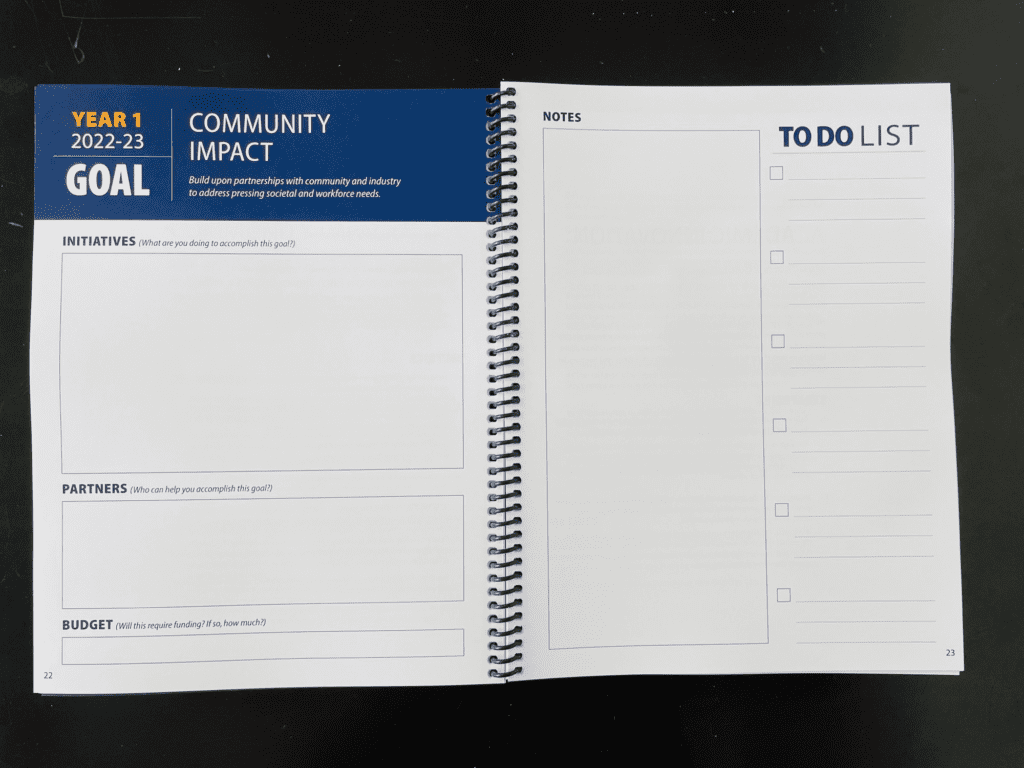 Designed in-house, we focused on a bold look to emphasize the boldness of the plan itself. Colors, fonts, and layout all support elements that are part of NECC's brand identity. A wire spiral binding was carefully chosen for its durability and to allow users to open the workbook flat, or folded on itself. Heavier matte stock was selected to enable writing with a variety of pens, and to withstand erasing pencil marks. QR codes are used to provide quick reference (get it?) to source documents.
At the end of the process, we wanted to choose a name for this workbook. Recognizing the formal name for the Strategic Plan is "Success For All at NECC: 2022-2027" we wanted something more utilitarian. We batted around some ideas when NECC's creative director Trev Stair offered this: "How about calling it the 'strategic planner?'" It's the working document for implementing our strategic plan. The simplicity of that name is simply brilliant.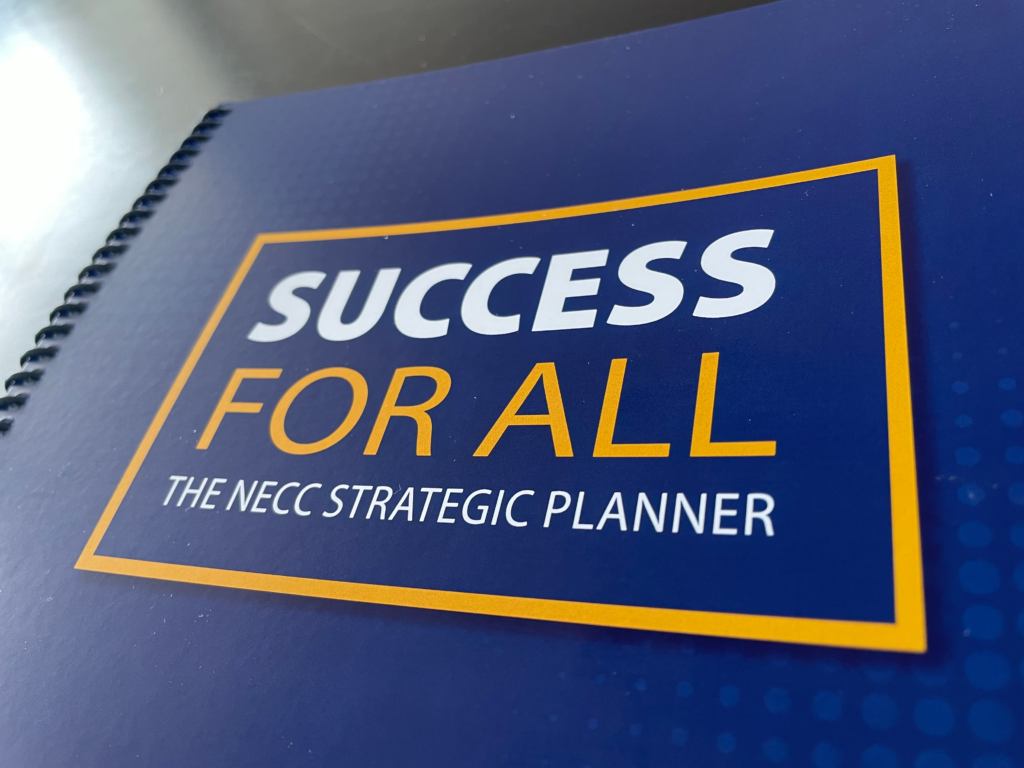 As we go forth in our work making a great institution greater, our Human Resources peers will include the planner in new hire on-boarding and our Center for Professional Development will offer periodic workshops for employees to explore how they're contributions matter. This strategic plan is truly a team effort.
So, my friends, dare to be different. Break the mold. Ask if traditional ways of communication work. Try things. If your institution is in the midst of a strategic planning process, and this blog post inspired you, please ask questions. I'm happy to help.
Now for the braggy part… it's CASE awards season. Time to submit this gem 😉